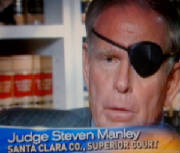 ACLU PLEASE INVESTIGATE CIVIL RIGHTS ABUSES BY JUDGE STEPHEN MANLEY AND CALIFORNIA JUDICIAL COUNCIL
Written by Alberta Rose Jones, October 22, 2010, Copyright protected
After months of investigating "mental health courts", I came across the following article written by John Gramlich of Stateline.org. His article was titled "New Courts Tailored for War Veterans."
I have attached it to this article. From what I can determine, there are currently only fourteen mental health courts in the United States. California's legislature never approved the court 'established' under the radar by Santa Clara County and the California's Judicial Council.
Judge Manley forces everyone to become his wards. The first thing he does is take away their social security benefits so that they can be used to house his "group" of clients in his half way houses run or operated under his express jurisdiction. From what I have determined.. he does not graduate his students and there are no statistics so you have no idea. I am asking the American Civil Liberties Union to investigate the matter.
Unless the people that Judge Manley overseas are on "social security", he cannot have them in his program. Meaning Judge Stephen Manley is targeting a "select group of people". This is unconstitutional.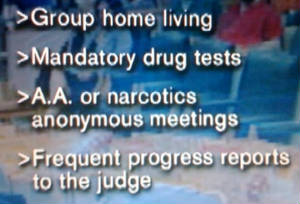 This is what "Judge Stephen Manley" says about his "mental health court" and "veteran mental health court". To the right you see "group homes". I have a case now where Judge Stephen Manley had the "defendant" sign papers in court giving up his social security benefits to the County of Santa Clara. Judge Manley ordered it. "No one" can be in Judge Stephen Manley's program unless they are on "social security" that is the only way he can fund his program or make it work. He needs "federal" money.