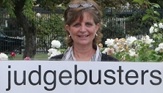 Harmonlegal.com State Bar California 9/18/2010
Copyright protected.. Alberta Rose Jones
September 18, 2010 Please go to the State Bar of California's Website and look up Jamie Harley. She says her law firm is "Harmon & Associates" same as her current website "harmonlegal.com" Check it out.. my photo is copyright protected and will be used in filing charges against "Jamie Harley" and "Ted Stalcup" partners in crime.
Jamie Harmon still has a website up asking folks to come hire her as their attorney... she never ceases to amaze me...... www.harmonlegal.com
Harmon & Associates - Bay Area criminal defense attorneys.

www.harmonlegal.com/how_to_hire_a_lawyer.html - Cached
The Photo of her website is the property of Alberta Jones. It is being used to have her prosecuted for soliciting money to hire her as an attorney. Jamie Harmon AKA Jamie Harley is a criminal. This shows proof of it. Attorney Ted Stalup "kept" the same phone number Jamie Harmon has on her website at www.harmonlegal.com. Ted Stalcup's new law firm that has the same address and phone as Jamie Harmon and is called Bay Area Defense Associates. Theodore "Ted" Stalcup's website is now "badassociates.com"